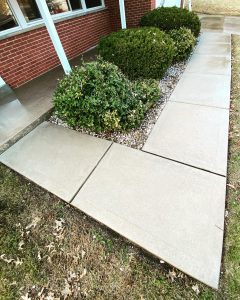 Sidewalks Power Washed in O'Fallon, Wentzville, St. Peters
Along with your other concrete surfaces, your sidewalk is going to need a little TLC from time to time. Sidewalks get a lot of foot traffic in addition to being subject to the weather. All that wear and tear means mildew, dirt, algae, mold and other undesirable substances will build up between the grains, and cleaning a sidewalk is something that takes more than a little elbow grease. In order to make your sidewalk look like new again, your sidewalk will need a high pressure washing.
At O'Fallon Power Washing & Window Cleaning, we love hearing our customers surprise when they see their newly power washed sidewalks. When a sidewalk is subject to a good pressure washing, all that deeply embedded dirt and grime is purged. The concrete, stone, or other hard surfaced material is restored to the point that often they look better than they did when they were new because they've never been cleaner!
Excellent Pressure Washing Company & Power Wash Service for a Clean Sidewalk
We would love to clean your sidewalk for you. Often, your sidewalk is one of the first things a guest will see. When your sidewalk is spic and span, it stands out and people will notice.
If we can help you with a clean sidewalk, please give us a call at 314-931-5757 
We off 100% free no-hassle quotes, and all our pricing is competitive and up front.
Hire the best pressure washing service, residential window cleaner, and commercial window washer in O'Fallon - O'Fallon Power Washing & Window Cleaning!
Call or fill out the Free Quote form on our website and someone will be in touch with you soon.