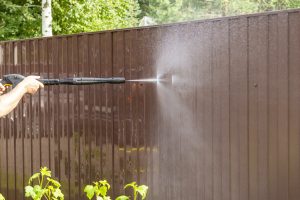 Fence Cleaning in O'Fallon, Wentzville, St. Peters
At O'Fallon Power Washing & Window Cleaning, we love cleaning fences! Privacy fencing, regardless of the material, will accumulate dirt, mildew, grime and algae. A good power washing will breathe new life into your fence and leave it looking like it did when it was brand new!
If your wooden fence has turned grey, or if algae has given your cedar fencing greenish hues where the wood used to be a beautiful tan, let us come and professional clean your fence for you. Our pressure washing service will leave your fence looking spic and span, and your clean fence will be noticed by guests and neighbors alike. Call 314-931-5757 
A Clean Fence is a Happy Fence
Professional fence cleaning is our specialty at O'Fallon Power Washing & Window Cleaning. Our certified pressure washing experts know exactly the right amount of pressure to use on your fencing whether it's a cedar fence, vinyl fence, or fencing made from another type of material that needs a good fence cleaning.
We offer 100% up front pricing, and when you hire us to power wash your property in O'Fallon and the surrounding areas we guarantee you will be completely satisfied with our service.
Hire the Best Pressure Washers to Clean Your Fencing
At O'Fallon Power Washing & Window Cleaning, we know you have a choice when it comes to hiring a professional pressure washing service and gutter cleaning service in Missouri. We promise we will take care of your property as if it were our own, and will leave it looking brand new when we're done. If we can help you with a great fence cleaning or deck cleaning in O'Fallon, Wentzville, Lake St. Louis, Dardenne Prairie or the surrounding areas in Missouri, please give us a call at 314-931-5757