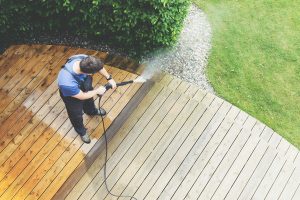 Deck Cleaning O'Fallon, Wentzville, St. Peters
Is your deck in O'Fallon in need of a little TLC? We will leave your deck looking spic and span with our professional deck cleaning service!
Our pressure washing pros will power wash your decking and remove all dirt and debris. Our deck cleaning will ...
Remove deck algae
Clean deck mildew
Wash away deck mold
Restore decking beauty
Restore decking color
Leave your decks looking brand new!
Before Professional Deck Cleaning:
After Professional Deck Cleaning:
Decks Power Washed in Missouri
Your deck, regardless of material, is going to have a buildup of grime over time. Whether you have a composite deck, vinyl deck, cedar deck or something else, you decking will need to be power washed occasionally.
When you're dealing with cleaning a wooden deck, it's always best to hire a professional because an inexperienced deck power washer can do more harm than good. If too much pressure is used when washing your wood deck, water can damage the wood and shorten the life of your deck. When our experienced pressure washing professional is cleaning your decking, however, you can count on him to use the right amount of pressure and liquid to clean your deck properly without damaging the wood.
Decking Restored - Professional Pressure Washing Services
If we can help you with deck cleaning through high quality deck pressure washing services today, please give us a call at 314-931-5757 
We also offer general concrete cleaning, siding cleaning, patio and porch cleaning and more!